The processes of changing bus tickets vary depending on the time remaining on the trip.
If there is less than 25 hours until your trip:
Ticket changes are made within the option periods in accordance with the rules set by the companies. You can find the ticket change times of the companies here.
Ticket Change Rules
Bus tickets cannot be exchanged between companies and route changes cannot be made.
If there is a price difference between the cost of the ticket you want to change and your current ticket, the change process cannot be performed.
Click on the link https://www.obilet.com/en/ticket-inquiry-cancellation-and-change to process your ticket. After entering your ticket information on the screen that will open, you can perform the change process by pressing the "Change" or "Cancel" button located next to your ticket.
If your trip is more than 25 hours away:
You can cancel your ticket for the change process and you can use your open ticket for any company, route and date you want.
After logging in as a member, you can enter the information requested from you on the "My Tickets" tab or by clicking here to access your ticket and perform your operation on the "Change" or "Cancel" button.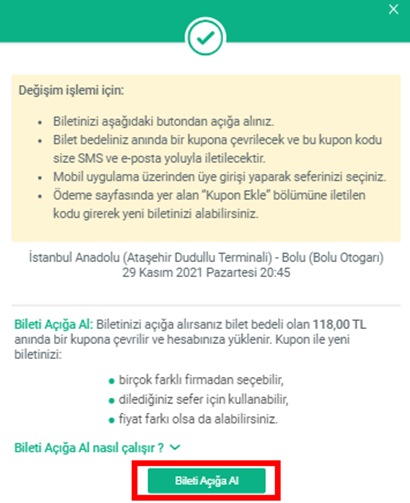 The period of use of the coupon code is 12 months.
Companies that cannot create tickets with an open ticket coupon: Metro Tourism
NOTE: If the company has made changes to the time of the ticket that you purchased, you can get support by connecting to us via the "Online Assistant" button located below.
→ How can I use my open ticket?